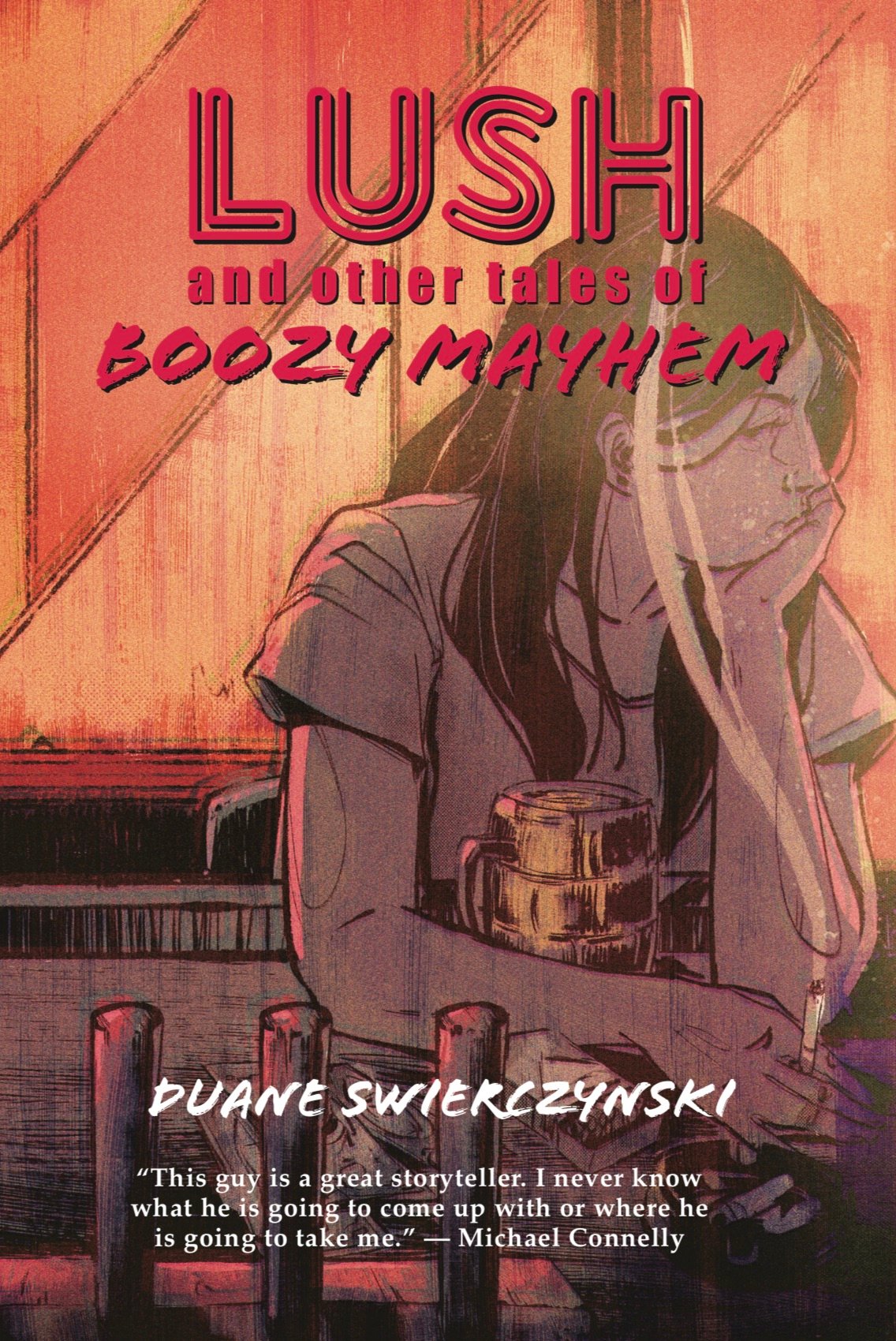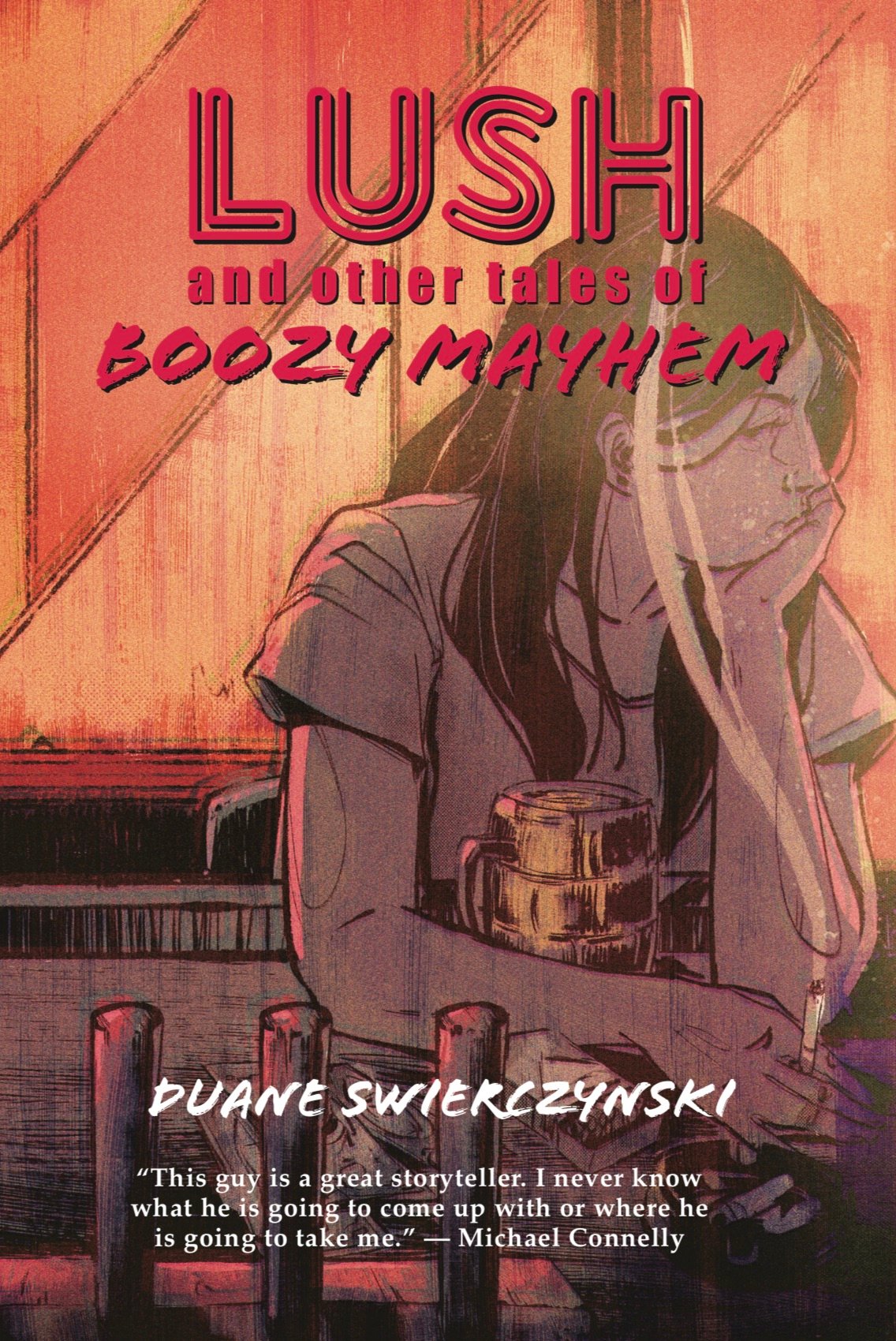 Lush and other tales of Boozy Mayhem by Duane Swierczynski
$15.95
Cimarron Street Books is pleased to bring you the first collection of short stories from Duane Swierczynski!
If you're in the mood for mayhem, you've come to the right place, pal. Cozy up to the bar and let Duane Swierczynski spin you a yarn. I'll warn ya, though; these eighteen tales aren't for the faint of heart. You'll find crime, science fiction and plenty of horror in these pages . . . and rest assured, he isn't afraid to serve up the hard stuff.
As Duane notes in his introduction: "Stories have always been an escape for me, just like a couple of stiff drinks at the end of the day. Both are methods of altering your personal reality, even just for a little while." We invite you to escape into Duane's wild world of high-octane (and high-proof) short fiction, where you'll experience . . .
A journalist landing an interview with Philadelphia's last hardboiled P.I., the hunt for a pulp writer's lost manuscript, the downside of finding out that death isn't the end, the dangers of ignoring a Polish death curse, a new twist on serving time for crimes committed, a cross-country trek under the watchful eye of a killer, a particularly dangerous film print, lawbreakers in a future where technology has tamed the L.A. freeway system, and a whole lot more . . .
Gird your brain and your liver . . . it's time for Lush and Other Tales of Boozy Mayhem.
Contents include:
• Sharpened Pencils and Spilled Drinks: An Introduction
• Hilly Palmer's Last Case
• Life During Death
• Eve of Destruction
• Not All There
• Say Goodnight to the Bad Guy
• Death Runs Faster
• The Replacement
• Lonergan's Girl
• Hell of an Affair
• Under the Influence
• Lush
• Tough Guy Ballet
• Universal Monster
• Giant's Despair
• W★lk of F★me
• Speed of the Sound of Loneliness
• Pinkerton
• Story Notes & Thanks
Publication Date: May 25, 2023
Trade Paperback - 312 pages
ISBN-13: 979-8361883219
Dimensions: 6 x .78 x 9 inches
If ordering a signed copy, be sure to include a note how you would like that signed or inscribed!
Praise for Duane Swierczynski
"Duane Swierczynski knows how to slam it down on the table. His tales are up there with the best of them." — John Carpenter
"Of all the modern noirists, who has the most fun by far with the furniture, the tropes and the beleaguered, doomed characters? Duane Swierczynski, that's who. You will too. Duane actually did the footwork, the legwork, and the hardboiled coursework, from inky-stained newsprint journalism to dead-of-night fictioneering — as though he Tarzan'd from The Front Page to Black Mask without skipping a quip, a kill, or a deal gone bad. Read all about it, right here." — David J. Schow
"This guy is a great storyteller. I never know what he is going to come up with or where he is going to take me." ― Michael Connelly
"Duane Swierczynski writes the 'new noir,' full of bad choices, courage, and sudden disaster, all delivered at a break-neck pace." — Charlaine Harris
"Lean as a starving model, mean as a snake, and fast as a jet. This guy has got to be the hottest new thing in crime fiction." — Joe R. Lansdale
"Crime fiction doesn't get much weirder." — Publisher's Weekly
"Enough gut-churning violence to make a Quentin Tarantino movie look like a Disney musical replete with singing candlesticks." — Chicago Tribune
"[Fun and Games] could not be more perfect. It's got the pounding rhythm of a West Coast punk band on crystal meth. If you like a relentless sleaze-action read then you are going to lov, and I mean L-O-V this." — Simon Le Bon, Duran Duran