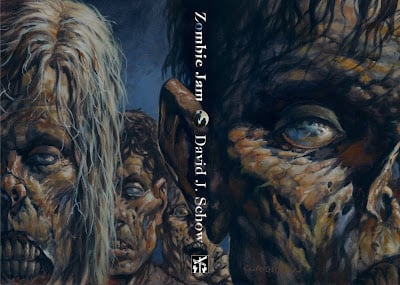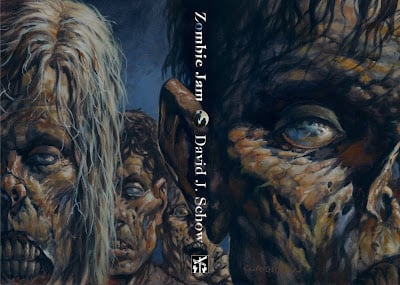 Zombie Jam by David J. Schow
$14.95
Cimarron Street Books is pleased to exhume David J. Schow's collection ZOMBIE JAM in an all-new expanded edition, with even more illustrations by the best damned zombie artist around, the justly famous Bernie Wrightson!
Zombie fiction is . . . well, dead.
Want to know what it was like when it still had a heartbeat?
Voila ― ZOMBIE JAM has finally crawled from its mouldering grave and landed right in your eager hands. Collected here are David J. Schow's groundbreaking (heh), genre-bending short stories of the Zombie Apocalypse, before, during, and after. Included is "Jerry's Kids Meet Wormboy," probably the single greatest zombie story of all time ― and we dug up its original, longer, unexpurgated form.
The full contents include:
• Introduction: The Meat of the Matter
• incursion
• Blossom
• Pitt Night at the Lewistone Boneyard
• infection
• DONt WALK
• Obsequy
• epidemic
• Where the Heart Was
• Jerry's Kids Meet Wormboy
• Dying Words
• assimilation
• Williamson's Folly
• terminus
• Afterword: Things to Do with the Dead
Publication Date: October 23, 2020
Trade Paperback - 277 pages
ISBN-13: 979-8691976605
Dimensions: 6 x 0.7 x 9 inches
Here's what the critics have said about ZOMBIE JAM:
DarkEcho calls ZOMBIE JAM "a retrospective of Schow's vivid zombie phase. No one else has ever done zombies exactly his way."
Booklist called the collection "ghoulish fun!"
Publisher's Weekly added: "Thanks to bouncy prose and an incisive wit, Schow makes even the outrageous and grisly morsels of Grand Guignol seem palatable."
Sarah Meador of Rambles called it "the perfect testament to the horror of these voiceless eating machines . . . Even if you've read all the stories of ZOMBIE JAM in original release ― and you're probably lying if you say you have ― you need this book."